Welcome to our small campsite and villa in a rural village in North Eastern Bulgaria. One hour from the Black sea and half an hour from Shumen. We want to build and evolve our place into an eco-friendly sustainable oasis.
Bulgaria is a beautiful part of Europe and our area has nature in abundance to explore: You can walk for miles in the green forests and can fish and picnic by the lake. You can enjoy Bulgarian food, authentic village life and have a quiet or busy holiday. We will help you enjoy your experience. Originally from the UK, we think European and love Bulgaria. The ancient world is all around us. There are wonderful places to visit such as: Madara Horseman, Pliska (the first capital of Bulgaria). The Shumen monument, fortress and the Shumensko Plateau and many more. We have lots of local knowledge to help you make the most of your time here.
COME and STAY a while 🙂
Camping and Caravan Site
Settle in to our forest garden, you can choose a space wherever you can pitch a tent.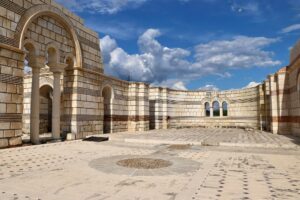 Sightseeing
Get to know our village and make day trips to explore fascinating nearby sightseeing spots.